Operation & Maintenance
Keep tools clean and lubricated. When you've finished using them at the end of the day, place a teaspoon of oil into the air inlets and operate the tools briefly to circulate the oil through the tools. This will protect the tools from rust until their use the next day.
Air tools need clean air. An in-line filter and lubricator can greatly increase the life of an air tool.

SLP-2030
3" Horizontal Cut-Off Grinder
This versatile tool is ideal for cutting mufflers and tail pipes, clamps, hangers, sheet metal, and bolts. Will also cut wood, plastic,and fiberglass. Die cast aluminum guard, 20,000 RPM, and rear exhuast are components of this quality tool powered by the .5 horsepower motor. Equipped with safety throttle lever. Includes 3" cutting wheel and hub wrench.
Made in USA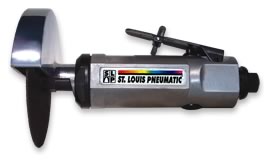 SLP-2032
4" Horizontal Cut-Off Grinder
The 4" version of the SLP-2030 performs the same function with a larger wheel for a deeper cut and longer wheel life. Includes 4" cutting wheel and hub wrench.
Made in USA