Operation & Maintenance
Low air pressure reduces the speed of all air tools. Be sure that your air system is properly designed to deliver a minimum of 90 PSI at the tool inlet with the tool running.
Have your air tool checked regularly. Service and parts distributors provide repair service that will bring tools up to original performance capacity.

SLP-84025
1/4" Mini Angle Drill
Allows user to tackle high-speed drilling and material removal jobs in confined areas. The .3 horsepower motor delivers 20,000 RPM. Includes industrial duty 1/4" drill chuck. Equipped with safety throttle lever.
Made in USA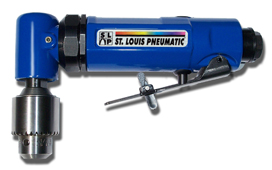 SLP-84026
1/4" Low-Speed Mini Angle Drill
This tool utilizes the same design as the SLP-84025, but incorporates a gear reduction package to produce an output of 4,500 RPM. The low-speed, high-torque feature allows polishing, deburring, and grinding without damage to metal surfaces or drill bits. Includes industrial duty 1/4" drill chuck. Equipped with safety throttle lever.
Made in USA